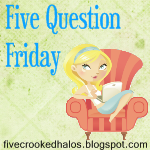 1. Do you collect anything?
When I was in my teen age years, I was a big fan of elmo. I had a huge collection but when I moved to New York, I didn't bring it with me. So now, my new collections are Nike Air Force One's and BAGS! BAGS! BAGS!. Pictures to follow =)
2. Name 3 celebrities that you find good looking.
Brad Pitt, Zac Efron and Tom Cruise
3. Do you have any scars? If so, what's the story behind it (them?)?
Yes, on my knees. When I was a kid, I was one of the boys. =)
4. What is a food that you like to eat, but others might think it's gross or weird?
Balot!
5. Have you ever seen a tornado in real life?
No and I hope I don't ever!